HOT ROD SURF® presents
HOW TO SERVICE YOUR HOT ROD! Tech DVD Movie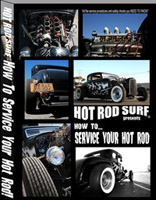 Learn what it takes to professionally service your classic hot rod! Follow Hot Rod Surf founder, hot rod builder, and motorcycle racer, Mark Whitney Mehran (MWM) as he inspects and fully services a 1932 Ford five window coupe at the Hot Rod Surf headquarters in San Diego, CA. MWM will guide you through a professional inspection and service procedures you can apply to your own classic road machine. Filled with money saving tech tips and professional mechanical procedures this entertaining and easy to follow service guide is universally applicable from early 1930's hot rods all the way up to 1960's muscle cars and covers:

• Safety & Service Inspection
• Wheel Bearing Service
• Brake Service
• Tire Service
• Engine Service
• Fuel & Carburetor Service
• Transmission Service
• Cooling Service
• Drive Shaft & Rear End Service
• Suspension & Steering Service

Have your hot rod running in top notch condition with this entertaining and artfully filmed How To guide brought to you by the legendary Hot Rod Surf garage.
Includes all original music soundtrack by MWM and Harley Davidson (from the voodoobilly band Deadbolt) recorded and mixed at HOT ROD SURF!
"Avoid costly repairs and keep your hot rod running strong and safe!"
"No matter what kind of hot rod you drive this dvd is packed with all the Must Know service procedures and safety checks you NEED TO KNOW."
Running Time 1 hour 30 minutes
Rated for All Audiences
www.hotrodsurf.com
Original music by MWM and HD
HOT ROD SURF PUBLISHING (ASCAP)

©2008 HOT ROD SURF/Choppers by Hot Rod Surf®. All Rights Reserved.